The Tax Factor
The essential podcast for the latest tax insights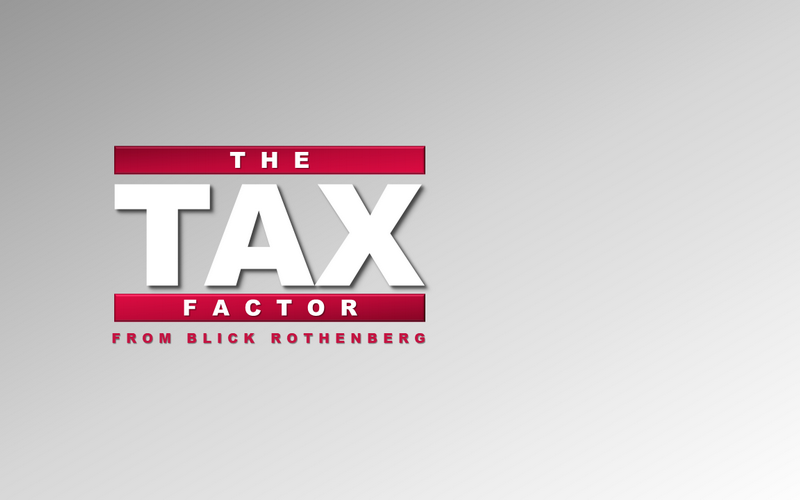 The Tax Factor
The Tax Factor is a new weekly podcast series from Blick Rothenberg.
Each week our team of experts will be looking at the news and updates in the world of tax and providing analysis of what it might mean for you or your business.
We'll also be looking at some of the longer-term issues and challenges such as Child Allowances, non-dom tax, Inheritance Tax and even HMRC itself.
We'll be releasing an episode every week. Make sure you don't miss an episode by subscribing via your preferred podcast platform.
 How to listen:
The Tax Factor will be released each Thursday and available to stream on all major podcast platforms as well as being available on our website.
You can follow and subscribe on your podcast player of choice. Or ask your smart speaker: "Play The Tax Factor".
Apple podcasts
Spotify
Google podcasts
Podbean
omny.fm
Our BRave Business podcast is also available on our YouTube channel.
You can also sign up for our email notification when new episodes are released.
The Tax Factor – Episode 9
No surprise this week – It's all about inheritance Tax
This week on the Tax Factor Heather Self is joined by Blick Rothenberg CEO Nimesh Shah. The hot topic this week is Inheritance Tax, with the media reporting that it is potentially going to be abolished by Rishi Sunak. Both Heather and Nimesh unsurprisingly have their own views on whether that should happen and what it would mean.
They then review the recent Bluecrest Tax Tribunal Upper Tier ruling and finally lament that, along with many other individuals and businesses, it looks like tax advisors will be spending longer enjoying the HMRC hold music this coming winter.
The Tax Factor – Episode 8
The Mini-Budget one year on and when is a property derelict?
Blick Rothenberg CEO Nimesh Shah is joined this week by Tax Investigations and Employment Taxes Specialist Partner Matt Crawford. One year on they look back at the Mini-Budget and the following reversals of….pretty much everything, but were some of those policies, on reflection, actually good ideas?
Another property tax case has caught our attention with HMRC disagreeing with a tax payer over a property being classified as 'derelict' costing the tax payer over £12k. Matt and Nimesh then look at a couple of Tax Tribunal cases which hinge on whether the Tax Payer had taken reasonable care in the advice sought.
The Tax Factor – Episode 7
Everybody's talking about the triple-lock
This week Private Client Partner Neil Lancaster joins Heather as they discuss the future options for managing state pension increases. Neil also highlights the potential bigger elephant in the room – how are pensions going to be paid for in the long term?
They also review recent cases involving the Child Benefit charge which was intended to be a simple pay out for low earning families but can be a trap for anyone filing a personal tax return, and then look at Covid Grant Schemes and wonder if enough is being done to identify and recover fraudulent awards as the recovery rates appear to be very low.
The Tax Factor – Episode 6
Pensions: "What a mess", and a date with the Chancellor
Heather is joined again this week by Blick Rothenberg CEO Nimesh Shah as they look forward to not so much the "Autumn Statement" as the "Winter Statement" and wonder if the lifetime allowance will be reinstated and the problems that that might cause.
They also discuss the reopening of the HMRC phonelines after it's summer closure and hope people have a better experience trying to get through than pre closure.
The Tax Factor – Episode 5
Labour hints at post-election tax plans and the chill of freezing thresholds
CEO Nimesh Shah joins Heather this week as Labour Shadow Chancellor Rachel Reeves gave some insight into Labour's future tax plans.
They also look at the chill that the freezing of allowances is causing taxpayers and why it's a popular choice by successive Chancellors and the ongoing headache of VAT inconsistencies as tax on pants makes the headlines.
The Tax Factor – Episode 4
The importance of getting good Stamp Duty advice and the consequences for not doing so
This week Heather is joined by one of the country's leading experts on Stamp Duty and Property Tax, Blick Rothenberg Partner Sean Randall, so it's no surprise that we're talking about property.
We'll look at what can go wrong on Stamp Duty, how to make sure you're not a victim of overzealous selling schemes that don't work, and how to make sure you get proper advice.
The Tax Factor – Episode 3
The perils of poor Stamp Duty Land Tax advice
This week Blick Rothenberg CEO, Nimesh Shah is joined by Corporate Tax Partner Rob Goodley who has a cautionary tale about poor Stamp Duty Land Tax advice that cost the taxpayer a substantial sum, they discuss Falling HMRC standards because of home working and debate Capital Gains Tax.
The Tax Factor – Episode 2
The rules and pitfalls of Inheritance Tax
This week, Partner Rob Goodley joins Heather Self to talk about Inheritance Tax. It's a topic which has recently been in the headlines again as the Conservatives consider its future, but what are the rules and potential pitfalls?
The Tax Factor – Episode 1
Tax on Pension Pots, and what you need to know about Child Benefit
Joining Heather Self for the first episode is Nimesh Shah, CEO of Blick Rothenberg, as they look at the outputs of the Spring Budget's 'Legislation day', the possible implications of the tax on pension pots and the ongoing issues around Child Benefit.
Message The Tax Factor team
We want to hear from you,  Let us know the stories and topics that you'd like us to cover on The Tax Factor.
We record the podcast every Wednesday.
We are sorry but we cannot give individual advice or responses to messages.