Chinese and British exhibition opens at the British Library, supported by Blick Rothenberg
An exhibition exploring British Chinese communities and culture opens at the British Library and in public libraries across the UK from 18 November 2022.
We've worked with Chinese individuals and businesses in the UK for many years, so we are proud to sponsor this culturally significant exhibition on the 50th anniversary of the UK-China diplomatic relationship.
From the first recorded individuals arriving from China in the late 1600s to Europe's first Chinatown being established in Liverpool during the 1850s, this free exhibition draws on personal stories and moments of national significance to ask what it means to be Chinese and British. It celebrates the lasting impact of Chinese people, who can trace their heritage to regions across east and southeast Asia, on the UK, from wartime service and contributions to popular cuisine to achievements in literature, sport, music, fashion and film.
Presenting personal artefacts from Chinese British communities alongside books, manuscripts and maps from the Library's collections, highlights include:
A hand-drawn map of China by Shen Fuzong, the first recorded Chinese person to visit the UK in 1687
Personal memorabilia including a detailed doll's house model of a Chinese takeaway
Ling Shuhua's 1953 autobiography, Ancient Melodies, dedicated to Virginia Woolf who encouraged her writing and offered advice on drafts of her memoir
A fan made of bamboo slats and paper from mulberry bark in Hangzhou and pair of hand-embroidered shoes belonging to Kathy Hall, a London-based practitioner of traditional Chinese opera
Trench art produced by Chinese Labour Corps workers during World War I
Cigarette cards featuring Frank Soo, the first player of Chinese origin to play in the English Football League
Rosanna Lee's 2022 film Parallel following a family during their weekly ritual of going out for dim sum filmed at the Pearl Dragon restaurant in Southend-on-Sea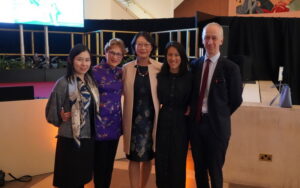 Winnie Cao, Partner and Head of the China Desk at Blick Rothenberg, said: "Chinese and British is a fantastic opportunity for people to learn about the history and personal stories over the last three centuries showcasing the bridge of cultures and inspirational endeavours, which we still witness every day at Blick Rothenberg working with people and clients from diverse backgrounds. We are incredibly proud to support this unique exhibition at the British Library."
Dr Lucienne Loh, Reader in English Literature at the University of Liverpool and co-curator of Chinese and British, said: "Chinese and British at the British Library is an incredible opportunity to celebrate the diverse contributions to British society by under-represented communities through personal stories of survival and success."
Public libraries will be hosting the Chinese and British exhibition across the UK through a series of displays simultaneously opening in over 30 towns and cities, from Aberdeen and Exeter to Bournemouth and Belfast, via the Living Knowledge Network. A programme of in-person and online events inspired by the exhibition will also showcase the rich history of Chinese British communities across the UK.
Chinese and British has been curated by Dr Lucienne Loh at the University of Liverpool and Dr Alex Tickell at the Open University in collaboration with the British Library.
For media enquiries, please contact either alice.carter@bl.uk for the British Library or david@barzilay.co.uk for Blick Rothenberg about their support.
Image credit: © Henry W and Albert A Berg Collection of English and American Literature, The New York Public Library.